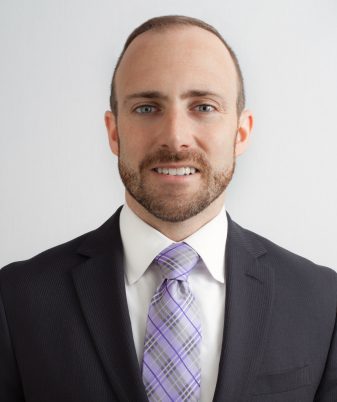 John J. Grunert
John Grunert joined Guerrieri, Bartos & Roma, P.C., as an associate in 2018. His practice focuses on representing labor unions under the Railway Labor Act, the Labor-Management Reporting and Disclosure Act, and other federal labor and employment laws.
Mr. Grunert served as Associate Counsel to an International Union of the AFL-CIO, CLC, where he handled contract arbitrations, trusteeship hearings, and mediation and arbitration of AFL-CIO internal disputes. Mr. Grunert has also worked for three years as a Field Attorney for the National Labor Relations Board in New York, where he litigated a number of cases in federal court, as well as before administrative law judges, and the NLRB on appeal.
Mr. Grunert went to law school to study labor and employment law in order to promote the rights of unions and workers. He received his J.D. from New York Law School cum laude in 2012. During law school Mr. Grunert worked as a law clerk for a labor union in New York, completed a summer clerkship at an International Union in Washington, D.C., and interned in the U.S. District Court for the Southern District of New York.
In 2009, Mr. Grunert graduated with a B.S. from the Cornell University School of Industrial and Labor Relations. While at Cornell Mr. Grunert worked for a program that assisted migrant agricultural workers in upstate New York to gain access to legal services and education. Mr. Grunert also completed a semester at the U.S. Equal Employment Opportunity Commission in Washington, D.C.
Mr. Grunert is admitted to practice in the District of Columbia, New York, New Jersey, and several U.S. District Courts.